Do you wish you could have your smile back? Dental implants can make this goal possible, even after tooth trauma, decay, or loss.
Dentist and prosthodontist Dr. Brock Smith coordinates implant treatment and places custom restorations, for stunning results.
To learn more about how the process works, meet the Smith Custom Dentistry team in Charleston, SC, for an implant consultation.
The Smith Custom Dentistry Difference
How Our Process Sets Us Apart
We take pride in transforming the look and function of each patient's smile through customized treatments, advanced techniques, and quality materials that achieve lasting results.
There's No Shame in Tooth Loss
It's a Common Dental Problem with a Solution
How Do Dental Implants Help With Tooth Loss?
Secured into your gums and jaw, implants provide unmatched stability for a custom restoration. Dental implants are often paired with supplementary procedures, like periodontal care, to ensure that you're fully ready for treatment.
What Are the Advantages of Dental Implants?
Though both traditional and implant-supported restorations can restore your smile, implants bring a host of benefits that can't be beat. Unlike traditional restorations, restorations supported by implants:
Preserve Your Facial Structure
Over time, tooth loss can lead to jawbone deterioration. This often results in a sinking appearance, aging your facial structure. Implants prevent the problem and preserve your jawbone.
Are More Secure
Implants and abutments mean you never have to worry about your dentures sliding out of place. Crowns and bridges are also more secure when held in place by dental implants, which can be well worth the peace of mind.
Improve Your Functionality
Patients with tooth loss often forget what it's like to chew, smile, or talk without worry. Dental implants can alleviate any emotional and physical discomfort, as well as improve your everyday functionality.
Look Completely Natural
With titanium implants, there's virtually no sign that you have a restoration. Plus, we trust an awarded lab to ensure your dental implant-supported restorations are as lifelike as possible.
Patients need good oral health and sufficient jawbone material to qualify for dental implants. Our dentist can assess your candidacy with a full exam and one-on-one implant consultation. If you're ready for implants, he can refer you to a trusted oral surgeon for placement. When the area has healed, Dr. Brock will attach a restoration to your dental implant.
For Your Dental Implant Treatment,
Choose a Dentist Dedicated to Learning
Dr. Brock believes in the power of knowledge. Whether he's learning about new dental techniques and advances via the Seattle Study Club or distilling concepts for his patients, he remains dedicated to the pursuit of learning.
He was also a full-time Assistant Professor at the Medical University of South Carolina, making him the person prospective dentists trusted to teach them about prosthodontics. He continues to read and lecture, so he can stay on top of the latest in dentistry.
Have questions about implants, prosthodontics, or restorative care? Our dentist is happy to answer them during a one-on-one consultation.
Contact our friendly Charleston, SC, team to begin or call:
Finding a New Smile in Charleston, SC
From a Dentist You Can Trust
"From start to end, flawless experience. Anyone looking for custom work, look no further. Easy to work with, incredibly knowledgeable, and you will be happy with the results!"

Vandy Vanderwarker
What Is Prosthodontics?
It's Dr. Smith's Specialty!
Prosthodontics is a field of dentistry dedicated to creating lifelike, functional tooth replacement options, also known as restorations.

Restorations are designed to be placed over a natural tooth or an implant and abutment. They can include dental crowns, dental bridges, and implant-supported dentures.

Our dentist finished his residency in Advanced Prosthodontics at the University of Alabama at Birmingham, allowing him to specialize in the subject.
Implant Restorations We Offer
At Our Charleston, SC, Office
Choosing a prosthodontist like Dr. Smith allows patients to enjoy lifelike implant-supported options like:
​We offer several types of restorations to go along with your new dental implant.
Combining Prosthodontics With Implants
For Natural-Looking Results
Our patient came to Dr. Brock in need of care for a lost front tooth. With the help of a discreet dental implant and a new dental crown, our dentist was able to give them a beautiful and functional smile.
As you can see, the crown blends in easily with the shade and shape of the patient's natural teeth, so that no one even needs to know they have a dental implant.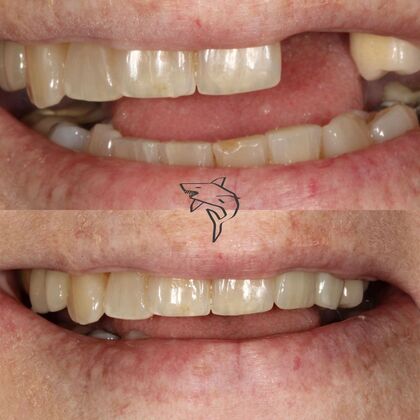 Let a Real Charleston, SC, Patient
Put You at Ease About Restorative Dentistry
"Amazing team! Dr. Smith is kind, patient and very detail oriented! He makes you feel very comfortable and at ease during every procedure. He does incredible restorative work. I highly recommend him and his amazing assistant Deena."

Katelyn Taylor